As Hell's Half Mile's 13th year in downtown Bay City draws near, we're increasingly eager to unveil the music lineup we have compiled. We're so eager, in fact, that we've opted to spill the beans a few months earlier than usual.
Headlining HHM 2018 is cult math-pop band Maps & Atlases, who will be playing the night of Saturday, Sept. 29. Also on that night's bill is Mobley from Austin, the Curls from Chicago, and Lung from Cincinnati.
The preceding night — Friday, Sept. 28 — will see Michigan's own Mover Shaker, minihorse,  and Anna Burch, Chicago's Emily Blue, and New York City's Oxymorrons take the stage. Or, "stages" rather, as both Friday and Saturday nights' shows will feature alternating stages to ensure there's minimal lag time between sets. And where are Friday and Saturday nights' shows taking place, you wonder? At a new location! Specifically, they'll be at The Warehouse, formerly the Sempliner's building at 311 Third St.
Kicking it all off on Thursday, Sept. 27, is Cincinnati duo Moonbeau, with a set at Old City Hall, 814 Saginaw St.
Thursday night's event is $5, Friday's is $10, and Saturday's is $15, though we'll be having a special online-only sale for the entire music portion of the fest for $20 that will run from Wednesday, July 4, through Wednesday, July 11. Ticket links will be available soon. Both Friday and Saturday nights shows are all-ages events.
A special thanks is owed to our friends and partners MI Made Marketplace for serving a pivotal role in HHM's efforts to secure this eclectic lineup. Be sure to check out their second annual event on the streets of downtown the same weekend as HHM.
Check out descriptions of the bands below.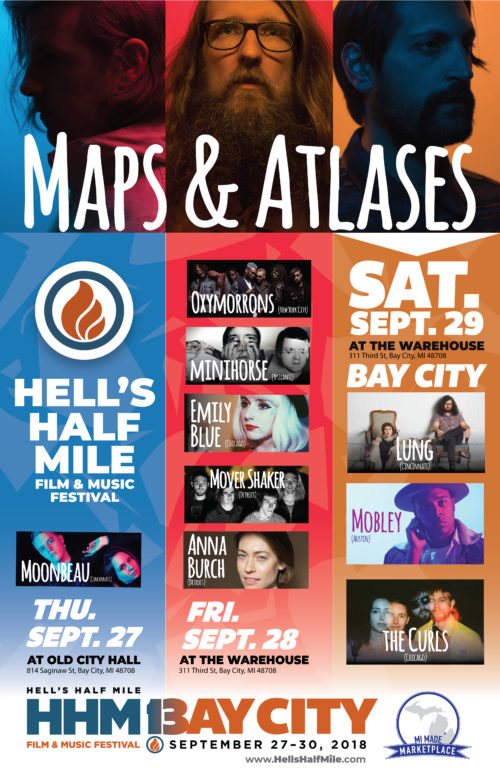 Thursday, Sept. 27, at Old City Hall, 814 Saginaw St.
Moonbeau (Cincinnati)
Noir '80s synthpop is this Cincinnati duo's forte. Sinuous and groovy, they conjure a sexily mysterious aura while brandishing their influences with an unapologetic flair. Cheeky and whimsical with a corona of dayglo ambience, their songs are rife with an energized abandon that is tailor-made to get you moving.
Friday, Sept. 28, at The Warehouse, 311 Third St.
Mover Shaker (Detroit)
"Technicolor gloom rock for the bad kids on the block" is how this quartet classifies their craft, and there's hardly a more apt description. An emotional apotheosis delivered amid densely layered sonic dispatches are what made their 2016 debut, Michigania, an instant classic of Midwestern indie rock. Desperately impassioned and defined by their youthful vigor, they're all about exorcising their demons and inviting you to expel yours as well.
Emily Blue (Chicago)
Think the theatricality and harmonies of vintage girl groups remixed with a futuristic bent and you get Emily Blue's synesthesia-inducing compositions. She may describe her sound as cotton candy pop, and sweet though it may be, her music is anything but saccharine fluff. On the contrary, her vividly aural concoctions carry meaning and messages of empowerment, delivered over a bevy of arresting hooks. Live, her infectious, glitchy art-pop becomes a spectacle to behold.
minihorse (Ypsilanti)
minihorse's evocative tunes are about dichotomies that interweave rather than pull apart. A dreamy haze permeates the trio's ethereal soundscapes, only to be tethered by washes of crunchy distortion. Carrying on the shoegaze tradition of marrying abrasive grit with melodic beauty, haunting hooks consistently rise to the top in each number.
Oxymorrons (New York City)
Take the fire and furor of Rage Against the Machine, the intriguing experimentation of TV on the Radio, and the unpredictable virtuosity of Jane's Addiction and you'll start to get an idea of what Oxymorrons is about. As bomb-detonating drums, frenzied guitars, and pulsing basslines create a bedrock behind them, dual vocalists alternately rap and sing provocative and titillating wordplay. Their raw energy erupts in torrents.
Anna Burch (Detroit)
With her LP Quit the Curse, Detroit's Anna Burch boasts one of 2018's strongest debuts. On full display throughout is her knack for conjuring ethereal, midtempo pop, all guided by her mellifluous voice. Abounding with vintage flourishes and an understated romanticism, her songs are rich with honey-dripping whimsy and subtly hum their way into your subconscious.
Saturday, Sept. 29, at The Warehouse, 311 Third St.
Lung (Cincinnati)
Lung is not your conventional two-piece. Built on a foundation of pummeling drums and sidewinding, distorted cello, their heavy low-end is tempered by vocals by turn lilting and frenzied. To describe their stage presence as "captivating" would be an understatement.
Mobley (Austin)
Hailed by Consequence of Sound as one of the top acts at 2017's Austin City Limits, Mobley is nothing short of a revelation. His groove-laden tunes are socially conscious while still fun, doses of joyful irreverence serving to balance thoughtful cultural insights. As a one-man band, Mobley routinely renders genre trappings asunder, effortlessly creating a mélange of pop, R&B, electronica, and rock.
https://www.youtube.com/watch?v=PjD1xH5GyKU
The Curls (Chicago)
You can debate whether the Curls' fit more snuggly into the pop-rock or art-rock realm. What's inarguable, though, is how deliciously weird and liberating they are. Stuffed to the gills with madcap catchiness, theirs is an anachronistic sound that is quirkily unfettered and tosses off limitations with a contagious laugh. If you like any type of music, you're sure to find some element in their caution-to-the-wind stew for you.
Maps & Atlases (Chicago)
From warping time signatures as a math rock outfit to embracing a poppier side, cult icons Maps & Atlases have cut a distinct swath. Throughout their sonic tableaus' permutations and by evolving into a math-pop niche, the Chicago group hasn't sacrificed their virtuosic musicianship or compromised their aesthetic. With Dave Davison's howling croon serving as an anchor, their percussive-heavy sound is pervaded by earworming melodies built from polyrhythms, incendiary fretwork, and skittery synths. Lyrically addressing the heady existential issues of what it means to be human, they deliver it with a sense of empathy, camaraderie, and effervescent fun.
Afterparty
FRED (Detroit/Grand Rapids)
This koala-headed duo is cloaked in mystery, and describing them too much would be to ruin their mystique. Suffice to say, they're equal parts rapid-fire rhyme-spitting, dense production, and crackling beats. With an inclusive stage presence built upon fiery catharsis that makes the audience part of their performance, FRED is the perfect entity to wrap HHM's 13th year.