HHM Collaborates for the first ever HHM Film Slam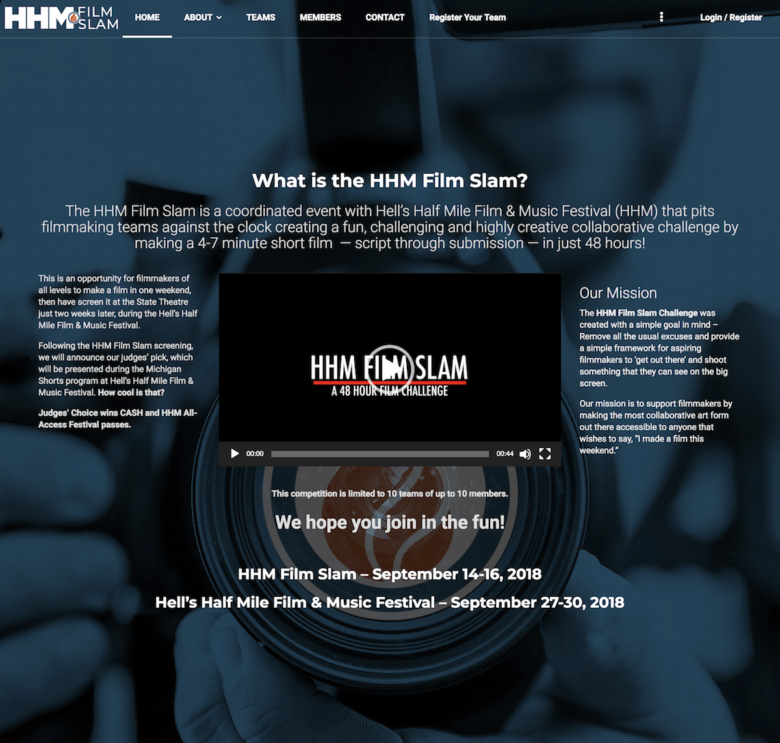 The Hell's Half Mile team has collaborated with local filmmakers for the first ever HHM Film Slam, a 48-hour film competition. This is an opportunity for filmmakers of all levels to make a film in one weekend, then screen it at the State Theatre just two weeks later, during the Hell's Half Mile Film & Music Festival. The competition takes place September
14-16, 2018 with screenings taking place on September 29, 2018 as part of the festival.
Following the HHM Film Slam screening, we will announce our judges' pick, which will be presented during the Michigan Shorts program at Hell's Half Mile Film & Music Festival. Judges' Choice wins CASH and HHM All-Access Festival passes.
The HHM Film Slam Challenge was created with a simple goal in mind – Remove all the usual excuses and provide a simple framework for aspiring filmmakers to 'get out there' and shoot something that they can see on the big screen.
The HHM Film Slam Mission: Our mission is to support filmmakers by making the most collaborative art form out there accessible to anyone that wishes to say, "I made a film this weekend."
Team slots are limited this year, and registration is easy. The website www.hhmfilmslam.com is built to connect team members, and eventually, it can be used to connect local and regional filmmakers to support the growth of a film community here in the Great Lakes Bay Region. If you don't have your own team, we can help you find a team to join.
For more information and to register your team, visit www.HHMFilmSlam.com or email info@hhmfilmslam.com for questions.